New websites for an easy start into graphical programming
by Katja Lehmann (comments: 0)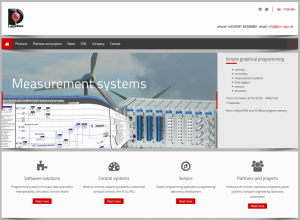 ProSign has launched their new homepage which now provides projects and information on pro-sign.de and documentation pages of the graphical programming systems test.con, miCon-L and the automation solution PACcubes. The new documentation websites should give an easier start into graphical programming. Forums about the corresponding programming system complete the website improvements of testcon.info and micon-l.de. The portal for our automation solution PACcubes and the corresponding graphical programming system PACstudio can be found on paccubes.de. The mobile web design allows you to access our websites easily from your tablet or smartphone.
Tutorials for starting-off easily with graphical programming
As no programming language has to be learned, the introduction to our graphical programming software is uncomplicated for technicians and engineers. The function blocks are connected to reach a data flow. Function blocks are composed of easily understandable, technical signs and symbols. An introduction in form of a first steps tutorial in miCon-L and test.con will give you a first look into the installation of and programming with our graphical programming software. Further tutorials will give you a comprehensive overview of the software interface and backgrounds about graphical programming with function blocks. Examples can be recreated and tested before the own project is approached.
For help, questions and suggestions: Our moderated discussion forum
New on our websites are the discussion forums on testcon.info, micon-l.de and paccubes.de. Here you can communicate with other users and ask questions to our support team. The goal of these forums is a vivid exchange of ideas and possibilities with our hard- and software. What experiences have you made with miCon-L, test.con or PACcubes? Here you can share them.
Documentation – online now
Up until now the software documentation was only available as online help in the program. Now you can find all function block documentation as well as the manual online, too. That simplifies the access to the documentation and you can find help over the search function on the website. Tutorials and further help will constantly be updated so you can have an easy start and success when programming your controller.
Examples and projects
Have a look at some of the projects, which we have already realized with miCon-L and test.con. With our graphical programming software and a mini PLC you can create different programs for f. e. a welding tractor. Get some inspiration and ideas here.