ProSign –Twentieth Anniversary
by Andreas Wandenälis (comments: 1)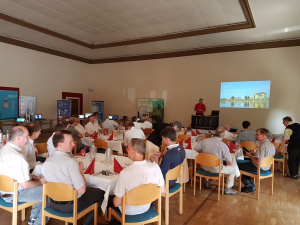 On June 20, 2017 ProSign celebrated its twentieth anniversary in conjunction with an in-house exhibition to show the guests various projects and products from ProSign and its partner companies.
The event took place in the Elbwerk, a location near the company building in the "Wissenschaftshafen" of Magdeburg. After welcoming the guests, the general manager Steffen Mertens made a speech about the history, present and future of ProSign. On this occasion he emphasised the importance of the long-term collaboration with partner companies like Siemens, Gantner Instruments, Kiepe Elektrik, Minimax und ABB. He explained that ProSign has every reason to look optimistically toward the future, because there would be many new products, projects and technology with significant future potential. As an example, he mentioned the new edge controller PACcubes Station PCR-EDGE310, which was introduced on June 15 of this year. Furthermore Mr. Mertens thanked all partners, employees and customers for their close collaboration.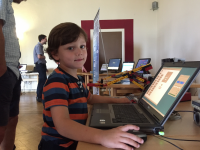 After the lunch, the participants had the opportunity to visit the in-house exhibition. Among other things the new Controller of the PACcubes series, the Mini-PLC from the company Barth, the project CraftEngine form Viking Heat Engines, the Q.Series from Gantner Instruments, and in the field of medical engineering, the dialysis machine from IBP Medical as well the Modular Lab from Eckert & Ziegler EUROTOPE were on display. Furthermore the research project Mericon was presented, whose development began in February this year in collaboration with the company SE-TEC. The anniversary celebration was a great success and the management board as well as the employees wish to say thank you for the good wishes and gifts.